Custom Beer and Liquor Packaging
Develop the best custom beer packaging and liquor boxes with the help
of Viveprinting experts and differentiate your brand from your
competitors at reasonable rates.
Get a Quote
Explore popular liquor and beer packaging
Viveprinting provides premium custom beer boxes made with the finest quality materials for your beer bottles as well as other liquor products.
Our sophistication packaging designs and detailing will surely enhance your unboxing experience.
Custom Beer Packaging and Liquor Boxes
Product packaging plays an important role in the success of any product. A product packed in a mesmerizing packaging box grabs the customer's attention quickly. This thing positively impacts their buying decisions. Therefore, manufacturers always try to present their products in alluring packaging styles. Custom beer and liquor packaging boxes help our clients to differentiate their products from their competitors.
Viveprinting deals in all kind of custom printed liquor packaging boxes and make sure that our clients will get these boxes at reasonable rates from us. We use top-quality building materials in their making. The adoption of new technologies and methods allows our experts to design product packaging in appealing ways. This helps our clients in increasing their product sales and consequently generate bigger profit margins.
You can customize any product packaging boxes according to your requirement whether it is custom candle packaging, custom bakery boxes, or any other product packaging box.
Easy Size Customization Options:
We use the latest technology and equipment to give the packaging an attractive and eye-catching look. The latest machines help us to design accurately measured boxes for custom beer and liquor packaging boxes. You have the option to customize the size of your product according to your requirements.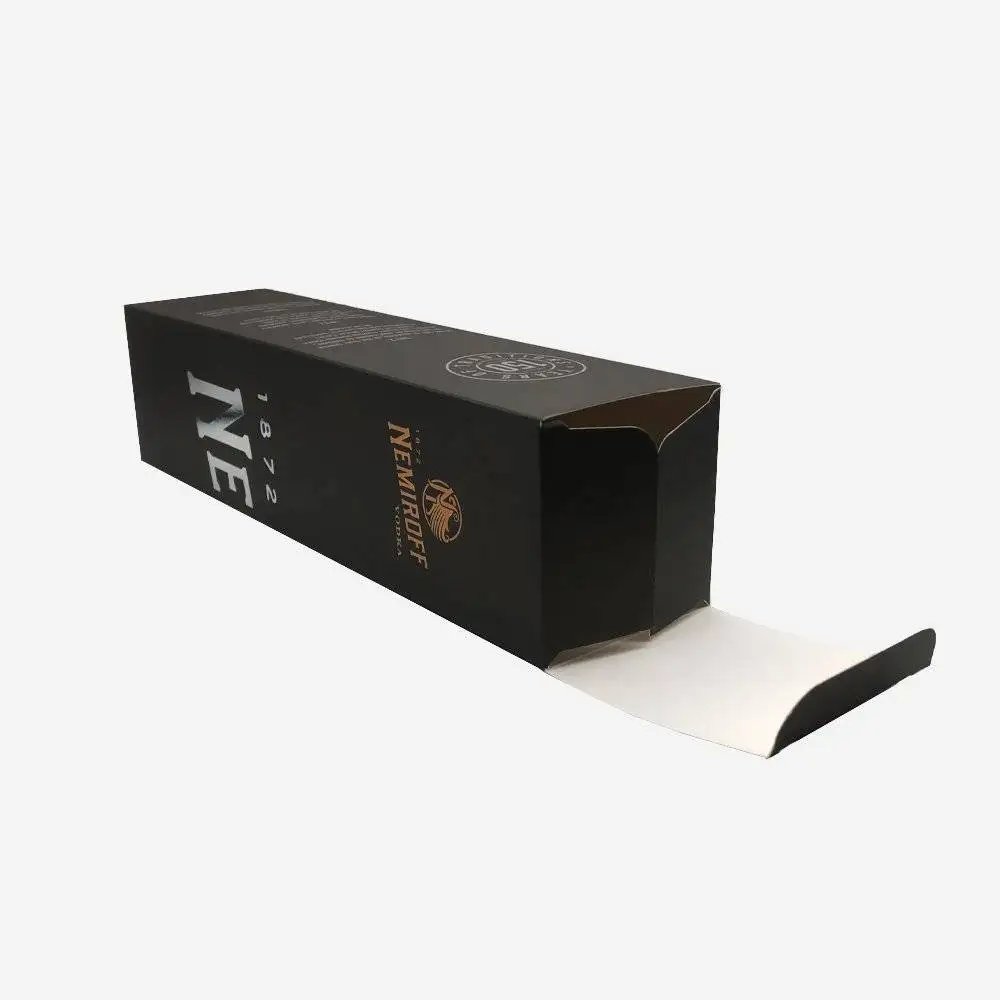 Don't know what box to choose? Our specialists can help!
Materials And Coatings Options for Custom Beer and Liquor Packaging:
As one of the best custom beer and liquor packaging manufacturers in the USA. We have a large range of materials and coatings that you can use in the manufacturing of your boxes. We have a team of experts who will guide you that which kind of material suits the requirements of your product. They will go through all the aspects of your product and then come up with the best suitable solutions for custom printed liquor packaging boxes. Some of the are mentioned below for reference.
       

Paperboard Material

       

Kraft Material

       

Corrugated Material

       

Rigid Material

       

Here are some coating options as well.

       

UV Coating

       

Varnishing 

       

Lamination

       

Soft touch coating
You can select any of them of your choice or you can recommend any other as well which you want to use in the manufacturing of boxes. Our experts will do it for you.
Explore New Custom Beer and Liquor Packaging Boxes Styles:
Explore new styles of boxes for your beer, wine, and liquor packaging. We have an online library of custom box designs for our customers. You can choose any design from that library for your product packaging or you can get inspiration from there to design a new style of box. Our team members will share the latest trends and new ideas with you before start printing your packaging boxes. So, you have many options on your plate for your product packaging.
Some of the styles we recommend to our clients to use for their beer and liquor packaging are.
·
Die-cut window boxes
These boxes are highly in demand due to their executive look and appearance. These boxes are usually designed with strong and durable materials. This is why they remain the best choice for the packing of beer or liquor bottles. They keep the bottles safe and secure till they reach the customer's hand.
·
Tuck End Boxes
There are three types of tuck-end boxes offered in the packaging industry. The simplest one is the straight tuck end boxes. The second one is the reverse tuck end boxes. The third one is the straight tuck with auto lock bottom. You can select any of these to provide your product with a simple but effective packaging solution.
·
Tray Boxes
They are used to give an executive and luxurious look to your products. Their eye-catching style improves the look of the enclosed product to a great extent. Usually, these boxes are produced with high-quality rigid material.
·
Lid Boxes
They come in two separate structures. The main structure comprises a container in which your product is placed. The second part works as the lid of the containers. It covers the containers completely. This lid can be designed in various styles like shoulder boxes, full telescope lids, and partial telescope lids.
·
Tray Packaging
The cardboard custom beer and liquor packaging helps you to put a divider into each liquor bottle packaging or beer cane box. It will serve the purpose of a divider as well as secure your product to get damaged by crashing into each other.
·
Gift Boxes
We have all the facilities to manufacture custom beer and liquor packaging in a gift box shape. You can present the liquor bottles in these well-designed gift boxes to your friends.
Our expertise is not limited to these styles only. We have provided a huge box styles library on our website. You can check it out as well to get an idea before customizing your box design and style. You can select any style from this library as well and we will not allow it to any other brand after that. It will remain your property.
Designing Facilities for Custom Printed Liquor Packaging Boxes:
The design of any product plays a very vital role in its branding and promotion. The same scenario goes with custom printed liquor packaging box. These boxes help companies to reinforce their brand value in the minds of their customers. That's why Viveprinting has a team of expert graphic designers. Who will help our clients in developing the best custom design for their products?
The option of customized artwork allows the manufacturers to add the desired features to these designs easily. This helps them in giving a dream look to their products. We allow our clients to get engage with our designers and design the artwork with their collaboration.  
What do you get at Viveprinting:
Viveprinting provides the concept of a one-stop shop for the printing and designing of packaging boxes. Now you will get all the facilities related to customization of designs, styles, and printing of your beer and liquor packaging under one roof at reasonable rates. We have all the facilities to manufacture all kinds of custom beer packaging and liquor boxes.
Our customer support department is available for your support 24/7. They will answer all your queries by utilizing their vast experience in the packaging industry. Therefore, you will always get a piece of advice from them that brings a lot of benefits for you.
Other wine packaging options