Custom Wine Boxes made for
premium wine experience
Give exceptional unboxing experience to your customers
with custom printed Wine boxes.
Get a Quote
Explore popular wine packaging
Viveprinting provides premium custom wine boxes made with the finest quality materials for your wine bottles as well as wine glasses.
Our sophistication packaging designs and detailing will surely enhance your unboxing experience.
Don't know what box to choose? Our specialists can help!
Custom Wine Packaging
Sell your brand through custom packaging solutions. Product quality no matters play an important role in convincing a buyer to buy a product but its packaging sells the brand image. It is the first thing with which customers get interacted while buying any product. If a product packaging is designed artistically, it leaves a positive impression on the buyer's mind about the brand. In the future, they will prefer to check the same brand products on a priority basis. Custom wine packaging has the same impact on the buyer's mind.
A packaging with brand name and logo on it delivers a clear message to the customers. In recent years, wine brands have grown significantly in the e-commerce business. This has led to the need for efficient direct-to-consumer custom wine packaging solutions, rather than just getting the bottle from point A to point B.
In this regard, Viveprinting delivers some amazing solutions to its customers to present their wine bottles in a lucrative way. Our new and fresh packaging box designs do play a vital role in making products successful in the market. These solutions allow the brands to develop loyal customers. This will help them in sustaining brand growth and profitability ratios.
Enhance the appearance of Custom Wine Packaging with High-Quality Printing:
Print your wine box packaging with some amazing artwork. This gives them an eye-catching look and positively influences buying decisions of the buyers. Why custom printing options are important in designing a packaging box? The answer is, to match your elegant wines with a luxurious box that exudes a high-quality presence and grabs the attention of your clients. From unique box designs to special finishes, we can put the finishing touches on your custom wine packaging boxes that stand out from the competition.
We are regularly bringing in new technologies to develop new styles and designs of boxes. These boxes are ready to shape the future of extravagant custom wine boxes. In recent years, there has been a growing market for premium wine packaging with lids and trays. They are usually built from a sturdy and luxurious rigid material. Their luxurious look makes them a perfect gift item. This packaging reflects its style and speaks to the premium proposition within it.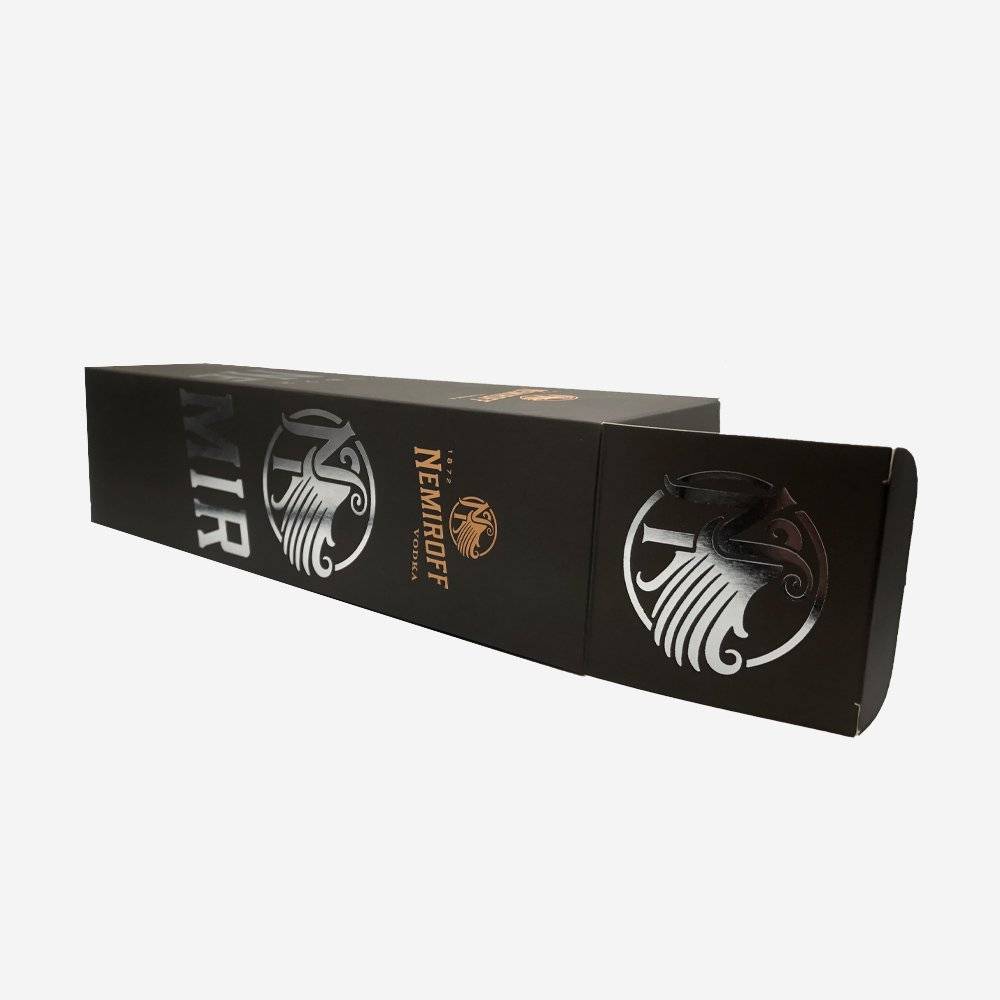 Give your Product a Unique Look Through Custom Wine Packaging:
Brands use their product packaging as their marketing tool. They design them in unique shapes and styles. This uniqueness grabs the customer's attention quickly and they get attracted to the enclosed product. This is been noticed that when customers go shopping, they spend just a split second judging the products placed on the store shelves. In those split seconds, if a product gets successful in grabbing their attention, then the probability of its sale increases a great deal.
Packing boxes for wine bottles are designed to stand out on the shelf. We can help you in designing their packaging in eye-catching shapes and styles to catch the eye of consumers instantly. We develop these boxes with high-quality stocks like cardboard, corrugated cardboard, and others. Our clients have the option to select any stock of their choice because we always assume that the manufacturer is the best judge of their product packaging requirements. They know best which stock fulfills their product packaging requirements efficiently.
You can get guidance from our experts as well in this regard. They will suggest you the best option. Mostly, we recommend our clients go with cardboard or corrugate cardboard stocks as they come with numerous different valuable features. These features support the design process of packaging boxes.  They're also lightweight and durable which makes them ideal choices for any kind of custom wine packaging.
Some designs that are useful in the presentation of wine bottles are.
       

Lid boxes

       

Tray boxes

       

Window display boxes

       

Multi Packaging boxes

       

Boxes with inserts

       

Custom boxes
The option of custom boxes brings excitement and interest to the manufacturers. This option provides them an opportunity to design their wine packaging according to their wishes.
Custom Wine Packaging for Brand Recognition:
A brand needs to keep its customers aware of its market presence. For this purpose, they can use their product packaging as a promotional tool. Most customers nowadays remain very conscious about the brand products. They want to buy products only of some specific brands. This increases the competition levels in the market.
To convince these people, brands design their product packaging with tempting designs. They must add their brand name and logo to these designs. This helps the customers in recognizing a brand product easily or in some cases to get attracted towards a new brand product. 
In today's competitive marketplace, getting your brand recognized in the marketplace is critical, especially when it comes to wine branding. There are many companies selling wine, but what separates you from them is your extravagant custom wine packaging. Yes, custom-printed wine boxes can help your brand become unique and attractive. We're here to offer unique packaging that can grab the attention of these wine lovers in one fell swoop.
Custom wine boxes are a great way to market your brand and get double the response from your customers. The boxes are manufactured using high-quality packaging materials, which you can choose from yourself. The manufacturing process also uses CMYK/PMS printing technology.
Hundreds Of Custom Options to Add:
Our premium quality custom-printed wine boxes are not only durable and functional but also beautiful. For example, whether you want to make your guests smile at a party or impress your loved ones, there are plenty of options to choose from custom wine packaging with engraved or embossed names can be made more impressive than standard boxes.
Viveprinting can provide silver/gold foil, matt/gloss finish, UV speckle, water-based paint, window grilles, die-cuts, and more, with several Hundreds of machining options. With these exclusive add-on options, you can create your own unique and attractive wine box packaging. Just let us know the size, style, design, and theme type of your box. We promise to bring you the best.
We have hundreds of other products like custom food packaging, custom gift boxes, and many others listed on our website. You can also visit them and place your order with one of our customer support representatives. We always strive to work hard and deliver top-quality products to our clients at economical prices.
Other wine packaging options